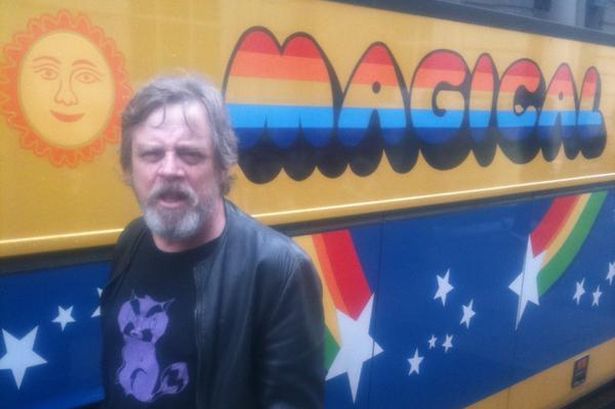 Star Wars actor Mark Hamill enjoyed a Magical Mystery Tour while he was in Liverpool as he visited a series of The Beatles' landmarks. The actor, who plays Luke Skywalker, visited the city while he is in the UK and Ireland filming for the new Star Wars film. Sporting a Jedi Knight beard, he was seen in the Cavern Club and the Beatles museum at the Albert Dock, with several surprised fans sharing photos of the star on social media. Bill Irwin, Cavern Club General Manager, said: "Mark arrived at the Cavern Club around 10pm last night and seemed really happy to be in the Cavern , he and his his wife and two children and his friend seemed to really enjoy the atmosphere. "His son took real interest in the Merseybeatles who were playing because I later found out he is a real keen guitarist himself!
"Mark and I chatted for about an hour about the history of the Cavern and of course about the Beatles. He told me stories of when he met George Harrison and Ringo Starr. "His knowledge of the Beatles was to say the least amazing , dates , gigs , meetings, there wasn't much he didn't know, a real avid fan and a lovely friendly guy. He spent time getting photos with anyone who asked. I've given his wife my details because they are trying to get back in September to watch our Saturday with the Cavern Club Beatles show. At the end of his visit I offered him and his family some souvenir t.shirts. He was taken back by the warm generosity and friendliness of the Liverpool people. I arranged for them to take a journey on our Magical Mystery Tour bus this morning which by all accounts he loved. Really looking forward to seeing seeing him again soon, and in the words of our Director Bill Heckle "May the fab fours be with you".

Read more on this story.....
Source: Liverpool Echo