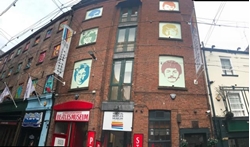 A NEW museum dedicated to educating people about The Beatles is set to expand with a new cafe and bar.
The Magical Beatles Museum was opened at the site of the former Lennon's Bar on Mathew Street in July by Roag Best, the brother of original Beatles drummer, Pete Best.
Having renovated the five-story warehouse on Mathew Street, it is hoped that this expansion will boost visitor numbers by at least 70% in the next year with the scope to create 20 new jobs.
Roag told the Globe: "Growing up, I wasn't aware of how famous the Beatles truly were, I just loved spending time with my four friends – John, Paul, George and Ringo.
"A lot of items that I've held on to from this period are now of huge interest to fans, and it's great to be able to give people a unique insight into the band's history.
Source: Lauren Jones/wirralglobe.co.uk