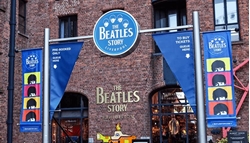 Primary school-age kids are being given lessons in Beatlemania at one of the most unusual school classrooms in Britain.
The award winning Beatles Story museum in Liverpool said Monday its Discovery Zone, a fun educational area for primary schools, has been given an exciting new upgrade to educate children on The Beatles' early lives, rise to fame, music and their connection to Liverpool.
The new investment into the educational facilities at the Beatles Story has seen a full refurbishment of the Discovery Zone, incorporating exciting new features linking the story of the Beatles, their early lives and rise to fame with key areas of Britain's National Curriculum for primary schools.
Children learn about the legacy of Liverpool's most famous sons, John Lennon, Paul McCartney, George Harrison and Ringo Starr, through creative play on a giant interactive floor piano, touch-screen interactives and many other fun learning zones, connecting topics geography, history, fashion, technology, art and music.
Top of the list of new features is a new giant interactive floor piano, inspired by the popular film, BIG, children starring American actor Tom Hanks.
Source: (Xinhua)