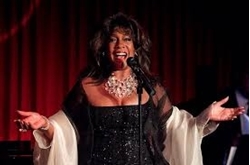 The late Mary Wilson undoubtedly had many stories to share about her time in one of Motown's famous acts, The Supremes, and the numerous musicians and artists they encountered throughout the years.
Terri Hemmert spoke with the late Supremes singer last summer as part of the Fest For Beatles Fans and she and Wilson engaged in nearly an hour long conversation about her run-ins with The Beatles, Little Richard, and more.
Wilson began by sharing a story about Little Richard, who was responsible for inducting The Supremes into the Rock & Roll Hall of Fame in 1988. "I was a young kid when he was popular so he was my idol," she said.
"He would call me up or I'd call him up throughout the years and we'd talk. If you've ever tried to get off the phone with a superstar, the man could talk for hours. I'd go 'hey Richard I gotta go, bye!'"
Then came The Beatles. Wilson said she first met "them in a club in London in 1964 and I think it was one of those private clubs. I think it was called the Ad Lib Club."
Source: Marty Rosenbaum/radio.com