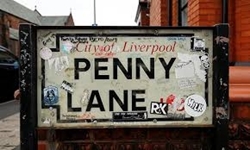 The street the song is named after has come under fire for a potential link to a slave trader
Liverpool Mayor Joe Anderson has confirmed Penny Lane will not be renamed.
Controversy about the iconic street's name erupted over claims it was named after the slave trader James Penny.
Mayor Anderson took to Twitter to write, "As Mayor of City let me be clear the name of Penny Lane is not being changed. There is no evidence it's named after James Penny."
Penny Lane was brought international fame in 1967 when The Beatles released the song of the same name.
The song was primarily written by Paul McCartney and tells the story of various sights and characters he recalls from his youth in the city. The song was originally slated to be included on The Beatles legendary album Sgt. Pepper's Lonely Hearts Club Band, but was instead released as a double A-side single with "Strawberry Fields Forever."
Source: Marty Rosenbaum/talk1370.radio.com