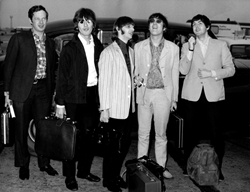 Brian Epstein took The Beatles from underground Liverpool clubs to being the biggest musical act in the world.
Brian Epstein had a vision: To turn a rough, local musical act called The Beatles into the biggest band in the world. Bigger than Elvis. And he brought that vision to fruition. So essential is Epstein to the history of one the greatest rock 'n' roll bands ever that Paul McCartney once remarked: "If anyone was the fifth Beatle, it was Brian."
"His story an against all odds kind of thing and he is essential to why we know The Beatles at all. It was unbelievable good luck on their part to connect with him." says Robert Rodriguez, author of Revolver: How The Beatles Reimagined Rock 'n' Roll, and the podcast, Something About The Beatles.
Born in Liverpool in 1934, Epstein was the son of Harry and Queenie Epstein who were of Eastern European Jewish origin and had built a successful retail business selling furniture, appliances and records. Dapper and erudite, the creative Epstein had dropped out of London's Royal Academy of Dramatic Art to return to Liverpool and work at the family business where he showed a flare for fashioning visual displays and a knack for creating loyal customers, especially in the music department.
Source: biography.com