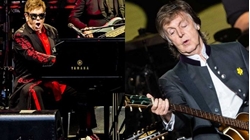 With talk that Paul McCartney is gearing up to release a new album, revered UK mega producer Steve Lillywhite says that iconic artists such as McCartney and Elton John have made "too many albums".
Appearing on The Music's latest Producer Series podcast, Lillywhite, who has worked with the likes of The Rolling Stones and U2, discussed the topic when asked if he would work with Queen if they were to record a new album with frontman Adam Lambert.
"I'm a big believer in artists who don't clog up the airwaves with new music just because they think they must release a new album," Lillywhite said.
"I love Paul McCartney, I love Elton John… I think they've made too many albums.
"Someone like Billy Joel, who I'm not a big fan of, but he's a good songwriter; he has not made an album for 20 years [excluding the 2001 Joel-composed classical LP, Fantasies & Delusions] because he hasn't really thought of what he wants to say.
Source: themusic.com.au