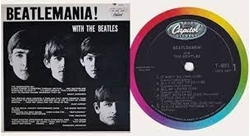 This week in 1964, The Beatles had the top five songs on the Billboard Top 100 with "Can't Buy Me Love" at No. 1, followed by "Twist and Shout", "She Loves You," "I Want to Hold Your Hand" and "Please Please Me."
Seven other Fab Four songs were on the Top 100 during the first week of April.
Sudbury.com invites readers to share their Beatle-related memories and stories of how their music became the soundtrack to their lives for a follow-up story April 13.
If you are a senior citizen, born between 1940 and 1960, you probably remember watching The Beatles' first appearance in North America on The Ed Sullivan Show on Feb. 9, 1964.
The Sullivan show began to broadcast in colour the following week, so record-breaking audiences were treated to John Lennon, Paul McCartney, George Harrison and Ringo Starr in living colour for their second performance Feb. 16.
The band performed a third time on the variety show Feb. 23.
Source: Vicki Gilhula/sudbury.com