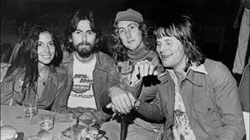 The Beatles legend George Harrison became an honorary member of Monty Python after the Beatles split, according to Terry Gilliam.
George, who died in 2001, struck up an unlikely friendship with the trailblazing British comedy troupe, made up of Terry, John Cleese, Eric Idle, Michael Palin, Graham Chapman and Terry Jones, and even bankrolled their most famous film, 1979's Life of Brian.
'He was a joy,' Terry told Metro.co.uk.
'With George, he's always referred to as the "quiet Beatle" – not at all! Just a jabber mouth. He was incredibly funny, that's the other side that people aren't aware of. They go "ohhh spiritual". No, he was incredibly funny and we just had a great time.
Source: Darryl Hannah Baker/metro.co.uk