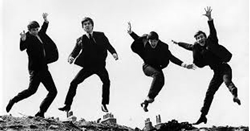 These boys from Liverpool are known as the Fab Four. Welcome to WatchMojo.com and today we're counting down the picks for the Top 10 Beatles Songs.
For this list, we've chosen our entries based on a combination of the artist's fan favorites and their most commercially successful songs.
#10: "In My Life"
Rubber Soul (1965)
It's partly thanks to George Martin that this Rubber Soul track has its baroque pop feel. The producer contributed piano to this gentle but memorable number that shows a more personal side to John Lennon. Arguments with Paul McCartney about who contributed what don't take away from the fact that the Beatles were able to capture a beautiful melody and showcase the band's evolving sound in just two-and-a-half minutes.
#9: "Something"
Abbey Road (1969)
It doesn't get more romantic than this: with George Harrison at the helm, this gorgeous rock and pop number proved the Quiet Beatle was more than just a talented guitarist. Fans fell so in love with "Something" that it topped the American charts. With Harrison's sweet vocals complemented by a string arrangement and an instrumental break, the three-minute tune is also one of the Fab Four's most covered songs.
#8: "Strawberry Fields Forever"
"Strawberry Fields Forever / Penny Lane" Single (1967)
With its psychedelic pop and rock flavors, this single was really able to bring the magic and wonder of Strawberry Fields to life. Inspired by Lennon's childhood memories, it shared the A-side with McCartney's "Penny Lane" and stood out for its distinctive musical structure and use of the mellotron and Indian harp. After putting in 45 hours of recording time, the band was rewarded with a top 10 smash and a Beatles classic.
Source: watchmojo.com