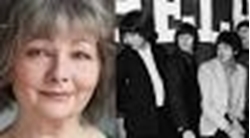 Luckily, all went well and that's exactly what he did.
Abigail ended up making a short appearance in a home video, shot by her father Leo in Austria at the time, which was released just a few years ago under the name 'Snow Scenes'. It featured all four members of the band laughing and playing around together in the snow, appearing completely at ease with each other away from the stage.
"They were always really nice. Ringo was so sweet, I used to go tobogganing with him in the snow in Austria," she recalled.
"John Lennon had only just had his son Julian Lennon at the time and he was missing him. My sister was six-months-old and he always used to say, 'Can I hold Harriet on my lap?' so he could cuddle her!"
Of course, forming a close bond with Lennon at such a young age stuck with Abigail's sister for years afterwards, and she admitted news of his sudden death in 1980 hit her particularly hard.
Source: Starts at 60 Writers/startsat60.com