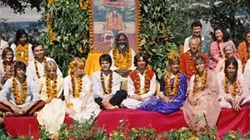 "We were there four months—or George and I were. We lost thirteen pounds and (barely) looked a day older," John Lennon told a BBC reporter while promoting the Beatles' new business venture, Apple Records, of The Fab Four's 1968 visit to India to study with Maharishi Mahesh Yogi. "I don't know what level he's on, but we had a nice holiday in India and came back rested-to-play businessmen."
"He's on the level," Paul McCartney, ever the diplomat, chimed in.
Fifty-two years ago, in the spring of 1968, the Beatles traveled to Rishikesh, India, to study with Maharishi, after meeting the ambassador of Transcendental Meditation in the summer of 1967. It's an oft-discussed but little understood period in the band's history, and came at a time when the Beatles were both at the top of the mountain creatively and culturally, but had also just come out of the rockiest period they'd ever experienced since exploding into the world's collective consciousness earlier that decade.
Source: Jeff Slate/thedailybeast.com