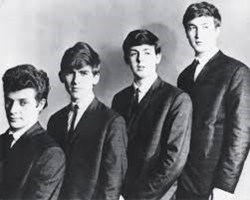 George Harrison, Paul McCartney and John Lennon tried out mop-top haircuts while in Hamburg. It would become the Beatles' signature look. Original drummer Pete Best, left, stuck with his Liverpool ducktail cut. (The Plain Dealer)
You can make the Beatles fan in your life very happy this holiday season -- if you're feeling particularly generous. And if your Beatlemaniac potential giftee doesn't put Ringo first among the Fab Four.
Heritage Auctions is offering up a postcard signed by the Beatles when the Liverpudlians were resident rockers in the German city of Hamburg, a couple of years before they hit it big.
They were already big enough in Hamburg, however, that they had their own band-specific postcard offering the group's "best wishes" on April 5, 1962. Heritage Auctions' "buy now" price for the collectible: $12,500. The auction is open until Dec. 2.
Source: oregonlive.com