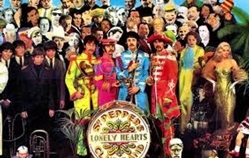 Beatles fans are being invited to listen to 'Sgt. Pepper's Lonely Hearts Club Band' at an immersive event that aims to give the impression that the Fab Four are performing live.
The pioneering experience, which is set to take place in Liverpool, will present fans with a remixed version of the legendary 1967 album.
The record will be played in Dolby Atmos with speakers being placed around the fans in a bid to transport them to Abbey Road Studios, where the album was recorded.
Producer George Martin's original tapes have been remixed by his son Giles Martin – who is also a Grammy winning producer.
"Without Liverpool there would be no 'Sgt Pepper's'. Liverpool is where it should be," he told the Liverpool Echo.
Source: Nick Reilly/nme.com