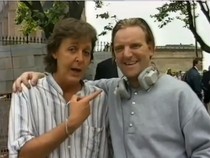 A previously unseen video clip of Paul and Linda McCartney paying a visit to the construction site of the Liverpool Institute of Performing Arts (LIPA) in 1992 was revealed to Beatles Examiner on July 21 by Dean Johnson, one of the authors of "The Beatles and Me."
The 48-second clip shows McCartney looking over the site and chatting with sound recording student John Lunt, who, according to Johnson, discovered the tape again just last week. McCartney poses happily for the camera and refers to Lunt as "John with the hairy mic!" before reaching out to hold the soundman's boom cover. He then says goodbye and acknowledges everyone in the area with waves while clenching his fist.
Read more on this story........
Source: The Examiner
Photo Credit: YouTube/John Lunt