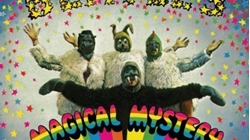 The film was received with such fury that the band were forced to apologize for making it. The critics were wrong
The consensual first misstep in the Beatles' career occurred the day after Christmas, 1967. In England, this is what is known as Boxing Day, when the postman and others in the service industries, however broadly defined, can expect to receive a present in a box — or they once could, anyway. It's a big shopping day, a big post-Christmas sit-around-and-bask day, and an ideal day for some light television entertainment.
It was into that market that the Beatles wished to step as their once glorious 1967 campaign drew to a close. The year had begun with their release of the finest single we have, in "Penny Lane"/"Strawberry Fields Forever," then reached a zeitgeist-bending high water mark in the early summer with "Sgt. Pepper's Lonely Hearts Club Band." Later in that summer, manager Brian Epstein died.
Source: Boyah J. Farah