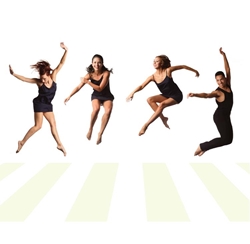 Put on your Beatlemania garb and head to the Manship Theatre on Sept. 28 where Of Moving Colors will be celebrating the Fab Four in dance.
"It's the 50th anniversary of the release of the Beatles' White Album and also the 50th anniversary of the animated version of 'Yellow Submarine,'" says Garland Goodwin Wilson, the contemporary dance company's artistic director. "We're commemorating it by looking at the Beatles' history."
The show is titled "Come Together," named for the opening song of the Beatles' 1969 "Abbey Road" album. In telling the story, the company will be using more than the Beatles' top hits.
"As we dove into a catalog with too many iconic songs to even hope to reference, I realized that we were holding the unique and almost selfish ability to pick whatever music we would like to work with," Wilson says. "I saw a responsibility to choose songs that didn't just come from Kasey Kasem's Top 40 Countdown but rather that touched on the many eras, phases and cultural dialogues that are so prevalent in the Beatles's overarching collection of music."
Source: ROBIN MILLER | romiller@theadvocate.com