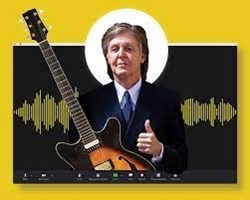 Students 0n the class Zoom call could barely believe their eyes. Some gasped. Others cheered. A few started crying tears of joy.
"IS THIS REAL?" asked Glenna Jane Galarion '21 in the Zoom chat, as Sir Paul McCartney logged onto the Princeton Atelier course "How to Write a Song." The students had the rare opportunity to have their work critiqued by the legendary Beatles musician and songwriter when McCartney, calling from New York, joined their virtual classroom in February.
"When we started listening to [my group's] song, Paul McCartney started bobbing his head," Galarion told PAW. "And I thought, 'No way is Paul McCartney, the greatest songwriter in music history, grooving to our song right now!'"
"How to Write a Song," taught by poet and Princeton creative writing professor Paul Muldoon, has been offered at Princeton in various forms since 2010. Bridget Kearney, a songwriter and bassist for the band Lake Street Dive and a former guest artist in the course, is co-teaching with Muldoon this year.
Source: By Anna Allport '23/paw.princeton.edu