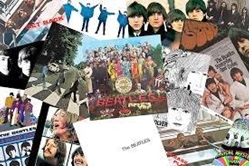 The Beatles aren't exactly a well-kept secret. You could ask anyone, and even if they don't claim to be a huge fan of the band, they'll certainly know who The Beatles are and will likely have a song or two they enjoy.
The Beatles have been labelled as the most influential band of all time, and you'd be hard-pressed to find someone who disagrees with that.
However, a more debatable topic would be that of their discography.
People always seem to have differing opinions on the best and the worst.
Provost and Senior Vice President for Academic Affairs Todd Pfannestiel, among many others, rates The Magical Mystery Tour as his least favorite Beatles album relative to all the others. However, this is not to say he doesn't still enjoy it though.
Source: uctangerine.com