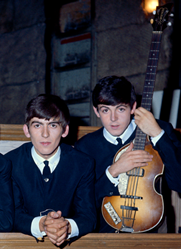 "THE MAGIC THING about Liverpool is that it isn't in England," said Margaret Simey author and politician.
So perhaps it is unsurprising then, that when The Beatles played Dublin in 1963 John Lennon declared on behalf of the whole band: "We're all Irish".
In the years that followed Lennon would record 'The Luck of the Irish' and 'Sunday Bloody Sunday', while Paul McCartney sang: 'Give Ireland back to the Irish'.
The Liverpool-Irish influence on John and the other Beatles is best understood once you realise that in the middle of the 19th century there were more Irish-born people living in Liverpool than in Limerick or Derry.
Liverpool had the fourth highest population of Irish born people of any city in the world, coming only after Dublin, Cork and Belfast.
Source: Francis Kenny/thejournal.ie