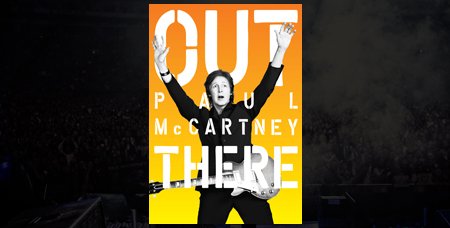 Following an incredible 2013 which saw Paul's critically acclaimed 'Out There' tour launch in Brazil and visit 23 cities across South America, Europe, North America and end here in Japan, today Paul confirms he'll be coming back to Japan this May.

The 'Out There' tour travelled through Japan last November seeing Paul and his band perform six sold out historic shows in Osaka, Fukuoka and Tokyo to a collective audience of over 260,000. This year Paul will return for his first outdoor stadium shows in Japan.
The 'Out There' tour features music from one of the best loved catalogues in popular music. Paul will perform songs that span his entire career - as a solo artist, member of Wings and of course as a Beatle. The set list will also include material from Paul's most recent studio album NEW, which was a global hit upon its release last year. The McCartney live experience is a once-in-a-lifetime opportunity; in just three hours some of the greatest moments from the last 50 years of music are relived; music which for many has shaped the very soundtrack of their lives. The last decade has seen Paul and his band perform in a staggeringly impressive range of venues and locations, including outside the Coliseum in Rome, in Moscow's Red Square, Buckingham Palace, at the White House, a free show in Mexico to over 400,000 people and even into Space!
Listen to the Audio Version of this News Story

Source: PaulMcCartney.com