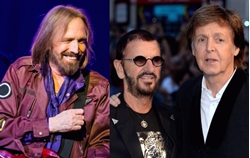 Beatles stars Paul McCartney and Ringo Starr have paid tribute to the late Tom Petty.
Rock icon Petty suffered a cardiac arrest at his home in California on Sunday (October 1) and died in hospital yesterday (October 2) at the age of 66.
The Tom Petty NME obituary: 1950 – 2017
As tributes to pour in from Petty's musical contemporaries, McCartney and Starr have both sent messages of condolence via Twitter.
"Sending love to Tom Petty and his family at this difficult time," McCartney wrote, before adding: "so sad to hear of his passing. What a lovely, intelligent and talented man he was."
Starr, meanwhile, wrote: "God bless Tom Petty, peace and love to his family". He added: "I'm sure going to miss you Tom". See those tweets below.
Source: Luke Morgan Britton