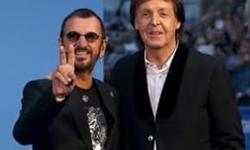 Grow Old With Me is latest collaboration between the surviving Beatles members
Sir Paul McCartney and Sir Ringo Starr have reunited to record a cover version of a song written by John Lennon in the final year of his life.
The track marks the latest collaboration between the two surviving members of the Beatles and goes some way to reuniting the musical talents of the Fab Four, since part of a George Harrison song is also reprised on the recording.
Lennon wrote Grow Old With Me during the recording sessions for Double Fantasy, the final album he made before he was shot dead outside his apartment in Manhattan in December 1980.
Starr, 79, said he had not been aware that Lennon recorded a demo version of the song until he was played it by the record producer Jack Douglas, who produced Double Fantasy, which was co-written by Yoko Ono, Lennon's widow.
Source: Mattha Busby/theguardian.com