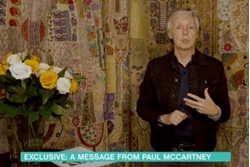 Paul McCartney announced he has written a kid's book, inspired by his grandchildren.
The rock legend unveiled the book on This Morning, in a video link sent to Holly Willoughby and Phillip Schofield which they revealed on the show. But he told the story of the naming of the book, saying the name came from his grandchildren, but hardcore Beatles fans would not help but notice the name seemed to hark back to one of the band's most popular anthems.
Paul said: "I'm announcing the fact have written a new children's picture book called 'Hey Grandude.' And why is it called that? "I have eight grandchildren and they are all beautiful. And one day one of them said, 'Hey! Grandude!'"And I said, 'What?' but I kind of liked that, so from now on I've been called Grandude."
Source: Jenny Desborough/mirror.co.uk