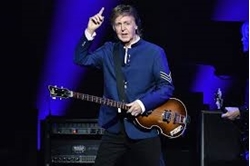 Paul McCartney is giving fans a glimpse into his incredible decades-long career in his upcoming book The Lyrics: 1956 to the Present.
On Wednesday, the famed singer, 78, announced the two-volume, 960-page collection which will see McCartney "recount his life and art through the prism of 154 songs from all stages of his career," according to a press release.
The book, which editor Paul Muldoon said is as "close to an autobiography as we may ever come," is due out November 2nd and is available for preorder now.
"More often than I can count, I've been asked if I would write an autobiography, but the time has never been right. The one thing I've always managed to do, whether at home or on the road, is to write new songs," McCartney said in a statement.
"I know that some people, when they get to a certain age, like to go to a diary to recall day-to-day events from the past, but I have no such notebooks," he continued. "What I do have are my songs, hundreds of them, which I've learned serve much the same purpose. And these songs span my entire life."
According to the release, The Lyrics will span McCartney's career "from his earliest boyhood compositions through the legendary decade of The Beatles, to Wings and his solo albums to the present."
Source: Georgia Slater/people.com