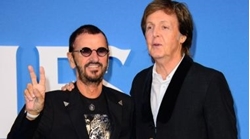 Ringo Starr, the ex-drummer of The Beatles has been selected for knighthood as part of Queen Elizabeth's New Year's honors list. Starr is now 77. He became a member of the Beatles as a replacement drummer for Pete Best in 1962. USA TODAY
Ringo Starr is among the celebrated citizens selected for knighthood and other awards given in the name of Britain's monarch — and his former Beatles bandmate is singing his praises.
Paul McCartney took to Twitter Saturday to share a photo of the pair along with a congratulatory message.
"Huge congrats Sir Ringo! Sir Richard Starkey has a nice ring to it. Best drummer best pal!" McCartney wrote.
Britain's Cabinet Office publishes a list of the people receiving honors for merit, service or bravery twice a year: just before New Year's Eve, and on the Saturday in June when Queen Elizabeth II's birthday is officially observed.
Source: Sara M Moniuszko, USA TODAY