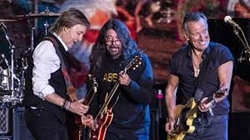 Paul McCartney performed at the Glastonbury Festival Saturday in the UK, and brought out some musicians you may have heard of ... Bruce Springsteen and Dave Grohl.
It was a closing-of-the-book type concert -- at least that's the hope -- it's the first Festival since the pandemic hit.
Paul, who recently turned octogenarian, played some Beatles classics, like "Can't Buy Me Love," and then went into post-Beatles territory with "Maybe I'm Amazed."
Then the fun ... he brought out Dave for "I Saw Her Standing There," and "Band on the Run."
Then it was Bruce's turn ... he and Paul sang "Glory Days" and "I Wanna Be Your Man" -- interesting he picked one originally sung by Ringo.
Source: tmz.com