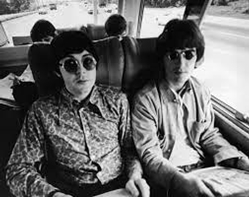 Paul McCartney once revealed his favorite version of George Harrison's Beatles song, "While My Guitar Gently Weeps." It wasn't the original recording from The White Album. Interestingly, George's favorite wasn't the original either. Paul McCartney and George Harrison on a tour bus in 1966.

Each Fab Four had creative ways of coming up with songs. They had their influences and other things to help them. George's go-to was spirituality and philosophy. In his 1980 memoir, I Me Mine, George said Chinese philosophy helped him write "While My Guitar Gently Weeps."
George explained that he had a copy of I Ching, the Chinese classic Book of Changes, which seemed to him to be based "on the Eastern concept that everything is relative to everything else, as opposed to the Western view that things are merely coincidental."
He continued, "This idea was in my head when I visited my parents' house in the north of England. I decided to write a song based on the first thing I saw upon opening any book—as it would be relative to that moment, at that time.
Source: Hannah Wigandt/cheatsheet.com