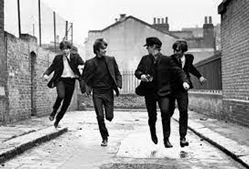 A Hard Day's Night was The Beatles' first movie. That being the case, John Lennon, Paul McCartney, George Harrison, and Ringo Starr were all new to the whole feature film acting process. In an interview with none other than Harrison for BBC Radio, McCartney joked about the trouble the band was having adjusting to performing for the big screen.
The Beatles' debut feature film, A Hard Day's Night, came out in 1964. Directed by Richard Lester, the film earned $11 million and is considered one of the great rock-and-roll comedies of its time. A Hard Day's Night is in the style of a mock documentary that shows a "day in the life" of the Fab Four.
"Over two 'typical' days in the life of The Beatles, the boys struggle to keep themselves and Sir Paul McCartney's mischievous grandfather in check while preparing for a live television performance," reads the IMDb synopsis.
Source: cheatsheet.com