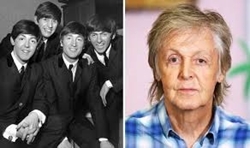 Paul McCartney is opening up about his final moments with George Harrison. Speaking in an NPR interview, which was revealed by Fox News, the 78-year-old rocker recalled being there for his former bandmate amid his cancer battle.
"We were in New York before he went to Los Angeles to die … We were sitting there, and I was holding his hand, and it occurred to me — I've never told this — I don't want to hold George's hand. You don't hold your mate's hands. I mean, we didn't anyway," he said.
Harrison died on Nov. 29, 2001, from cancer at age 58. He had undergone treatment for a brain tumor and lung cancer, and according to news reports, stunned friends by revealing he expected to die soon.
"He has an indomitable spirit — but he knows that he is going to die soon and he is accepting that," said George Martin, the Beatles' longtime producer, at the time. McCartney recalled Harrison's frustration at traveling around trying to find a cure for his cancer.
Source: Zoe Papadakis/newsmax.com