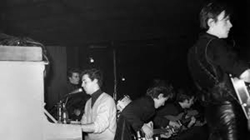 "Our original bass player Stuart would have been 80 today! So many great memories of our time together," McCartney wrote. "Happy birthday Stu! Love Paul."
The message was accompanied by a vintage photo of The Beatles featuring Sutcliffe, McCartney, John Lennon, George Harrison, and drummer Pete Best.
Sutcliffe joined The Beatles in early 1960. He left the group the following year to focus on pursuing artistic studies in Hamburg, Germany. Sadly, he died suddenly of a brain hemorrhage in April 1962 at the age of 21.
In other news, McCartney and his daughters Mary and Stella have teamed up to support a new initiative launched by animal-rights organization PETA, calling for the U.K. to get rid of a rule that requires schools to serve meat to students on most days.
Source: 933thedrive.com