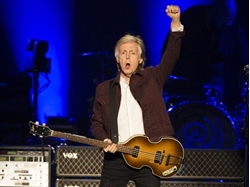 Long before any of us spun the Road Apples record or even heard of the other lady Madonna, the Beatles helped redefine how we consumed music for a time: obsessively, album-by-album, and with a sure and confidently marketed alteration of the musicians' images, complete with reliable press conferences and legendary stunts.
Few if any bands have ever been under such a sharp-focused microscope — only world war historians bother to go into such detail of who shot what bullet into what wall, which piece of obscure gear was taped together to win the day.
Looking back at it all now — Paul McCartney having now been musically active for 60-plus years (his career is practically a senior citizen) — this live flipping through 40 songs if you count the Foxy Lady cover can actually be a little bit jarring to watch, a playlist on shuffle when one Wings song might make you wish we were sticking around just there for a little longer.
Source: Greg Southam /edmontonjournal.com