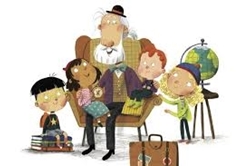 Sir Paul McCartney may be a world-famous rock star, but to his grandchildren he is known as the 'Grandude'.
The affectionate term birthed the idea behind the former Beatles star first children's book, out today.
'Hey Grandude', a play on the title of The Beatles' famous song 'Hey Jude', is based on McCartney's own experiences of being a grandfather.
READ MORE: Stella McCartney doesn't always clean her clothes
The 77-year-old said the idea for his book was inspired by his grandchildren's nickname for him.
"One of my grandkids - who used to call me Grandad - just happened one day to say 'Grandude' and it kind of stuck," he said in an interview with The Times. "So the other kids started calling me 'Grandude.'"
Source: Jessica Morgan/news.yahoo.com