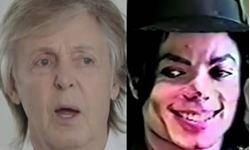 Last week Paul announced the reissue of the iconic Professor Longhair's album Live On The Queen Mary, set for release on 5th April. The recording took place on 24th March 1975 aboard the Queen Mary [a British ocean liner docked in Long Beach harbour, Los Angeles] at an exclusive – and by the sounds of it terrifically fun – party put on by Paul and Linda to celebrate the end of recording the Wings album Venus and Mars.
The band had a great time putting together the guest-list and sending out customised invitation cards. Along with invitees George Harrison, Bob Dylan, Mick Jagger and The Jackson 5, Paul also flew in a crew of his "N'arwlins" friends to provide the entertainment. This list of luminaries included Professor Longhair, The Meters and Allen Toussaint!
Earlier this month we spoke with Paul to learn a little more about how this very special performance from Professor Longhair came to be recorded and released. The story begins with Paul describing how he became inspired by the music culture of New Orleans, and why Professor Longhair [whom Paul fondly referred to as 'Fess' during our chat] was invited to play.
Source: Brett Buchanan/alternativenation.net