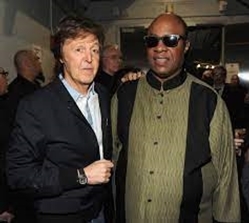 Paul McCartney had an interesting time working with Stevie Wonder on their song, "Ebony and Ivory,' in 1982. The former Beatle said he had to be "super precise" around the virtuoso because he heard every mistake.
In The Lyrics: 1956 to the Present, Paul said he wrote "Ebony and Ivory" in 1980 "as a response to the problem of racial tension, which had been the cause of a lot of friction in the U.K. around that time."
Paul made the demo in Scotland in his little studio there. Shortly after, he decided to call Wonder to see if he wanted to do something together. The pair have known each other for a long time. They first met in 1966, after a 15-year-old Wonder played a show in London.
When Paul called the child prodigy about collaborating, they were thinking about writing something together. However, Paul told Wonder he had "Ebony and Ivory." Wonder agreed to record it.
Paul and Wonder agreed to meet at Monserrat, where producer George Martin had a recording studio. Although, Paul had no idea how long it'd take for Wonder to show up.
Source: Hannah Wigandt/cheatsheet.com