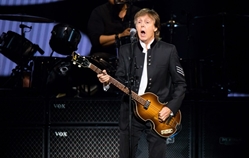 The star is set to release his latest solo album 'Egypt Station' on September 7 and sings about his past drinking habits on the track 'Happy With You'. The track features the lyrics: "I used to drink too much/Forget to come home."
Speaking to MOJO, McCartney described the song as "candid". "I did use to get stoned and wasted," he said.
He said he felt like he had self-medicated in the past, "most particularly in the period right after The Beatles [split up]." "I was bummed out and in the middle of this horrendous shit where someone was going to take every penny we'd ever made," he explained.
"That wasn't easy and led to a very difficult time in my life. I definitely self-medicated there and drank more than I ever had and probably more than I ever have since. But you go through it."
Source: Rhian Daly /nme.com