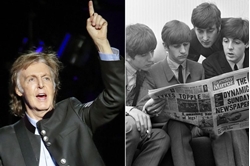 Paul McCartney gets to "hang out" with dead Beatles pals John Lennon and George Harrison – in vivid dreams.
Macca, 76, said they're so real he has to pinch himself afterwards.
He said: "I often have dreams about John or George. I often dream about people who aren't here any more.
"It's one of the great things about dreams – you get to re-meet them and you get to hang out with them.
"They tend to be very good. And it's only when you get to wake up you go, 'Oh yeah, it was a dream'."
Lennon was shot dead aged 40 by deranged fan Mark Chapman in 1980. And George died of cancer in 2001 aged 58.
Sir Paul, who has just released new album Egypt Station, also admitted moments of self doubt and insecurity – just like his friend John.
Source: Mirror