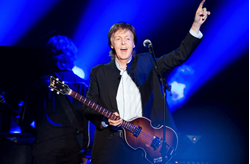 McCartney spoke to NME about his set list preferences
Paul McCartney says he'll never play a Beatles album in full on stage because it would be "too limiting."
The Beatle, who has just released his 18th solo studio album 'Egypt Station', sat down with NME to talk about his career and latest record.
And when it came to choosing songs from his huge backcatalogue to play live, McCartney shot down the idea of dedicating a full set to one album.
When asked by NME's Dan Stubbs in this week's Big Read whether he's ever thought about playing a Beatles album in full on tour, he replied: "No. I think that's kind of a cool idea but I'm not tempted at all to do that. It'd be too limiting."
But McCartney went on to explain that while he'd never do it himself, he applauds others for trying it.
He added: "It's the kind of thing other people do, and I wish them well with it, but to me if I'm doing one album and 'Hey Jude' isn't on it, and I'm in a crowd of 40,000 people, I'm going to want to do 'Hey Jude' because it brings people together."
Source: Anna Matheson/nme.com