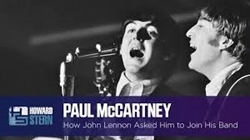 The Beatles' Paul McCartney shared that no one cared about his music and songwriting until he met John Lennon, another songwriter.
Lennon had met McCartney through a mutual friend, and the two quickly bonded over the fact that they were both creative songwriters.
On "The Howard Stern Show," Stern asked McCartney if he had been considered a prodigy because of his songwriting abilities. McCartney revealed that no one had really cared about it.
In an interview with Stern, McCartney revealed that he noticed Lennon with his long hair and sideburns moving around Liverpool. The music legend asked him to join his band; however, he had been reluctant and said,
"Let me think about it, I'll get back to you on that."
Source: Laura Beatham/news.amomama.com