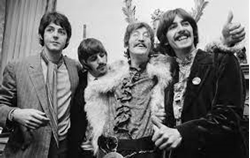 Paul McCartney has admitted that Peter Jackson's The Beatles: Get Back documentary has changed his perception of their split.
The three part film, which is coming to Disney+ later this month, focuses on the making of the band's penultimate studio album 'Let It Be' and showcases their final concert as a band, on London's Savile Row rooftop, in its entirety.
"I'll tell you what is really fabulous about it, it shows the four of us having a ball," McCartney told The Sunday Times after watching the film. "It was so reaffirming for me. That was one of the important things about The Beatles, we could make each other laugh.
He continued: "John and I are in this footage doing 'Two Of Us' and, for some reason, we've decided to do it like ventriloquists. It's hilarious. It just proves to me that my main memory of the Beatles was the joy and the skill."
Source; Damian Jones/nme.com