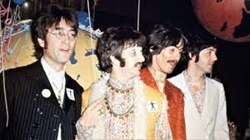 Paul McCartney has spoken about the type of crowd The Beatles resonated with, saying they were always understood by "working people".
In a new interview with The Guardian about Peter Jackson's Beatles documentary Get Back, McCartney looked back on the group's final live performance.
While the Fab Four performed on the roof of 3 Saville Road on January 30, 1969, local businessmen in the streets below were complaining about the disruption they were causing, with one caught on camera saying "it's a bit of an imposition to absolutely disrupt all the business in this area".
"There's always the guy in the bowler hat who hates what you're doing," said McCartney of the then-divisive nature of The Beatles.
Source: Ali Shutler/nme.com