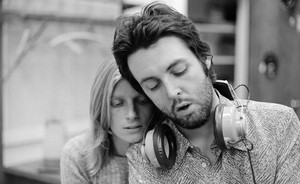 Paul McCartney has revealed that his wife Linda "saved" him from a nervous breakdown during the demise of The Beatles in 1969.
The revelation comes in a forthcoming biography titled Man On The Run: Paul McCartney In The 1970s, which is to be published on Friday (September 6). In the book, author Tom Doyle writes that McCartney suffered a massive crisis of confidence as the band were splitting up and fled to his farm in Scotland.
An excerpt from the book, as published by The Sunday Times, reads: "Day by day, his (McCartney's) condition had been steadily worsening. His often sleepless nights were spent shaking with anxiety, while his days were characterised by heavy drinking and self-sedation with marijuana. For the first time in his life, he felt utterly worthless.
Listen to the Audio Version of this News Story

Source: NME