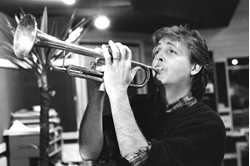 By the late-1980s, Paul McCartney may have been the only artist on the planet uninterested in sounding like the Beatles. But then his new collaborator, fellow British superstar Elvis Costello, reunited him with an old friend: his iconic violin-shaped Hofner bass. The instrument had last seen action during the band's final live performance on the roof of their London offices almost two decades before, and a faded setlist from their last tour remained affixed to the side with yellowed scotch tape. "He was a big Beatles fan and said, 'Hey, do you still use your Hofner?'" McCartney tells PEOPLE exclusively. "I had semi-retired it. But he said I should get it out, and I rediscovered it."
In doing so, he rediscovered his voice. After several years of exploring the latest synth-pop trends with mixed commercial success, McCartney got back to where he once belonged on his 1989 album Flowers in the Dirt. The four tracks co-written with Costello at McCartney's Hog Hill Mill studios in rural Sussex, England, formed the foundation of his most vibrant and daring work in years. In preparation of an extensive reissue featuring unheard demos and rare session outtakes due out March 24, McCartney spoke to PEOPLE about the album's creation.
Sitting nose to nose with Costello—a guitar-wielding, bespectacled, sharp-tongued Liverpudlian—surely brought McCartney a twinge of déjà vu. Though he had briefly collaborated with a handful of writers, this was arguably the most substantial working relationship since his partnership with John Lennon. It's a comparison that McCartney found understandably unnerving in the wake of his former bandmate's death in 1980. Costello, a card-carrying member of the Fab Four fan club in his youth, couldn't resist nudging McCartney towards the sound he had helped engineer: intricate sky-high harmonies, splashes of shimmering guitars, melodically adventurous bass lines — and that tune.
By: Jordan Runtagh
Source: People Magazine