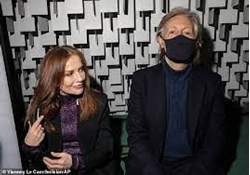 Doting father Paul McCartney made sure to support his designer daughter Stella at her eponymous label's Spring/Summer 2022 fashion show in Paris on Monday.
Sitting in the front row alongside French actress Isabelle Huppert, The Beatles frontman Paul, 79, cut a dapper figure in a tailored black blazer worn over a high-neck navy shirt.
Paul covered his nose and mouth with a black face mask and wore his greying hair neatly styled.
Once the show had come to an end, Stella, 50, made sure to walk the runway as the audience clapped and Paul was no doubt filled with pride.
Source: Aisha Nozari/dailymail.co.uk