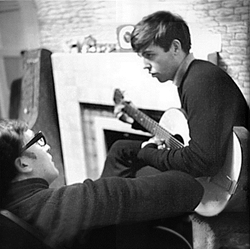 Did you know that the Beatles' 1962 hit song 'Love Me Do' was written years before the group was formed?
Paul McCartney wrote this song about his girlfriend at the time, Iris Caldwell, in 1958, when he was 17. He said that John Lennon co-wrote it with him and apparently, both he and John made time for songwriting by skipping school.
They had written songs before, but this was the first one they liked enough to record. 'Love Me Do' is the Beatles' first single and was a No. 1 hit in 1964. The single features John Lennon's prominent harmonica playing and duet vocals by him and Paul. John stole the harmonica used in this song in a music shop in a Dutch town called Arnhem while the Beatles were on their way to Hamburg. Apparently, John's lips went numb from playing the harmonica at a session!
Do you still remember the lyrics?
Love, love me do
You know I love you
I'll always be true
So please, love me do
Source: Stars at 60