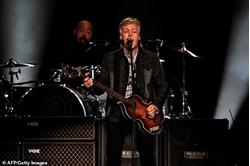 You'd think, by now, that Paul McCartney might have had his fill of it all. But there he was in June, turning Carpool Karaoke into a tiny gig in a Liverpool pub that has racked up 35 million views and probably generated more joy than any other musical moment this year.
There he was in September, releasing a sparky solo album, which went to No 3. There he was in November, reissuing The Beatles' White Album in a subtle remix that reached No 4. And here he is now, starting his eighth tour in a decade.
The man is 76.
He does offer two concessions to the encroaching years. One is a little joke – when Live And Let Die ends with a bang, he sticks his fingers in his ears, like a grandad in a sitcom. The other is a decision, finally letting his hair go grey. That queasy shade of chestnut is now history.
Source: dailymail.co.uk