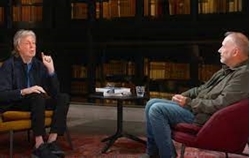 Paul McCartney has recalled the story behind The Beatles' 'Rocky Raccoon' during a conversation with Bob Mortimer – you can watch the video below.
The chat between McCartney and comedian Mortimer arrived as a teaser for the former's upcoming biography The Lyrics: 1956 To The Present, which is set for release on November 2.
It will recount the legendary musician's life through his earliest boyhood compositions, songs by The Beatles, Wings, and from his lengthy solo career.
Arriving today (September 22), the one-minute trailer for the book sees Macca speak to Mortimer at the British Library in London – where he recalls "the story of 'Rocky Raccoon'".
A verse in the 1968 track goes: "Now the doctor came in stinking of gin/ And proceeded to lie on the table/ He said, 'Rocky, you met your match'/ And Rocky said, 'Doc, it's only a scratch/ And I'll be better, I'll be better, Doc, as soon as I am able".
Source: Tom Skinner/nme.com