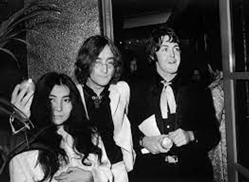 Paul McCartney is one of the best songwriters in the music industry. He was the other half of The Beatles songwriting duo Lennon-McCartney, which gave fans songs like "Hey Jude" and "Yesterday." In his solo career, Paul gifted us with hits like "Band on the Run" and "Maybe I'm Amazed." However, while each McCartney song comes with its own interesting back story, one song doesn't exactly bring up good memories.
Going into 1970, The Beatles were not on good terms with each other. Ultimately, many factors contributed to the band's demise after being together for most of the 1960s.
Things started going downhill when their manager Brian Epstein unexpectantly died in 1967. Then the band started to feel that Paul was controlling everything, John Lennon was bringing Yoko Ono to the studio, and each of the members thought the band would be better if they left. Tensions mounted while they were filming Let It Be. Eventually, John told the group he was leaving, and Paul announced he quit in April 1970, which started a media frenzy. The rest of the band quickly started their own solo careers, but Paul had already recorded his first solo album.
Source: cheatsheet.com