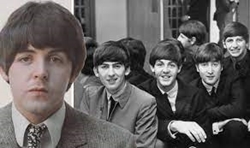 PAUL MCCARTNEY released a solo project around the same time The Beatles split up. His solo record included a song that acted as a touching farewell to his journey in the band he had grown up in, and also featured his wife for the first time ever.
BBC archive interview with Paul McCartney and girlfriend Jane
The Beatles split up in 1970 after they finished writing and recording their final album, Let It Be. John Lennon, Paul McCartney, Ringo Starr and George Harrison all went their separate ways after ten years of being in a world-famous band, selling millions of records and touring the world. McCartney released his first solo record in April 1970 - one month before Let It Be came out in May 1970 - and included within it an ode to his former band, Man We Was Lonely.
Source: Callum Crumlish/express.co.uk