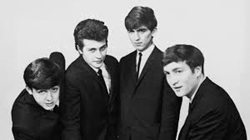 The Beatles original drummer Pete Best has said that John, Paul and George continued to "put the boot in" even after they had dismissed him from the band and replaced him with Ringo Starr.
Best (78) first met the Beatles, who were then called The Quarrymen, in 1959 when they played some of their first gigs at his mother's club, The Casbah, in suburban Liverpool and later joined the band in August 1960 after a phone call from Paul McCartney.
He went on to perform with them over 220 times, including many shows during their long stint in Hamburg. However, in what is perhaps showbusiness's biggest bad luck story, the rest of the band kicked him out just as super stardom beckoned.
Speaking on the Late Late Show on Friday night, Best, who has Irish relatives in Limerick and Dublin, said, "They could've been nicer, they put a load of boots in," he said.
Source: Alan Corr/rte.ie